Browsing articles in "Noticias"
COLOMBIA REEF EXPEDITON  Abril 11
Last night, when most of expedition team arrived, the crew had the Golden Shadow anchored just off Jamaica's Port Royal, at the mouth of Kingston Harbor. In the 16th and 17th centuries that was a pirate hotspot, but an earthquake submerged much of the town in 1692. Some historic remnants remain, but there was no time for sightseeing.
Everybody was onboard by sunset and we headed south at about 10 p.m. We couldn't have asked for better conditions. Skies are clear, seas are flat calm, and forecasts say it should stay like this for at least a few days.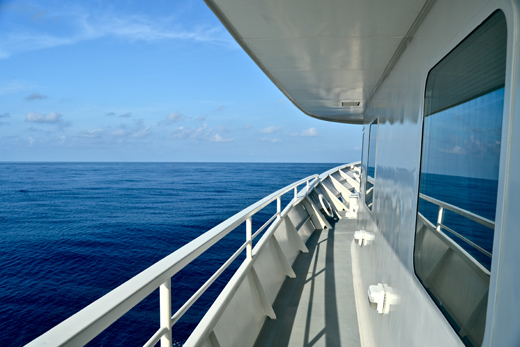 Flat calm seas
We've now traveled about 260 kilometers southwest of Kingston to a spot called Alice Shoal, which is jointly controlled by Jamaica and Colombia as part of a Joint Regime Zone. This is the northern tip of the San Andres Archipelago, a ring of reefs and tiny islets that stretches from where we are anchored to the inhabited island of San Andres, Colombia, roughly 400 kilometers southwest.
The Golden Shadow is situated in water so clear that we could see a stingray on the bottom today 35 meters below the surface. There's a reef line a couple of kilometers from here, but nothing breaks the surface.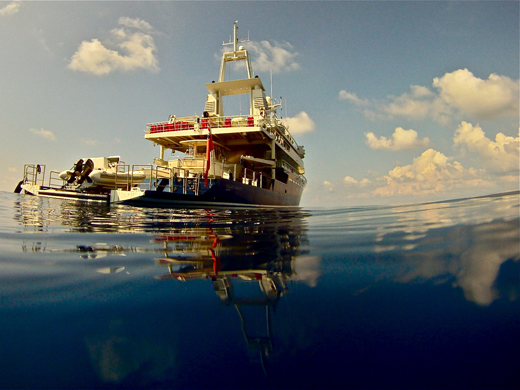 The Golden Shadow at Alice Shoal
On this expedition, we'll be exploring what are probably the most remote reaches of the Caribbean. There's one light in the distance now, but we didn't see any other boats all day. As we make our way around, we'll be curious to learn how many fishermen manage to make the long journey here from Colombian islands, Nicaragua or Jamaica.
We started the day with a scuba orientation then moved on to preparations for what we hope will be a productive day of diving tomorrow. The members of the science team will be splitting into groups and heading in different directions aboard smaller boats. We'll have people mapping the reefs, studying the conchs found in shallower waters, identifying and counting fish, and running detailed surveys of the corals.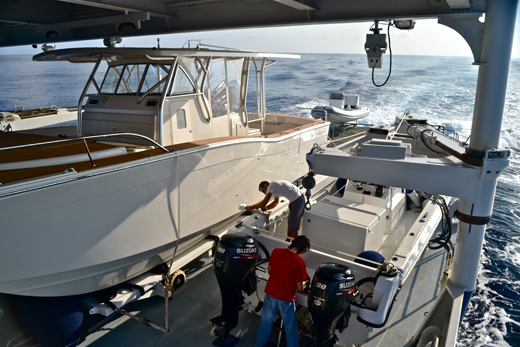 Prepping for survey work
There is so little information available about this region that there's no telling what we'll find during the numerous hours we'll be spending underwater. Check back each day for the next two weeks and we'll let you know.
Written by Mark Schrope
(Photos/Images by: Mark Schrope)
To follow along and see more photos, please visit us on Facebook!  You can also follow the expedition on our Global Reef Expedition page, where there is more information about our research and team members.
COLOMBIA SCIENCE TEAM http://www.globalreefexpedition.org/index.php?option=com_content&view=article&id=296&Itemid=789
Felipe Cabeza estan participando en la Expedicion que se llava a cabo por la Organizacion Ocean Living Foundation en
COLOMBIA
http://www.globalreefexpedition.org/index.php?option=com_wrapper&view=wrapper&Itemid=138
The video cannot be shown at the moment. Please try again later.
.
En reciente visita a Providencia, Tullia Roghi vivó una experiencia inolvidable la cual compartimos con todos a través de su video.  Proximamente nos enviara más.
Tullia Roghi recently visit us in Providencia Island. She had the most amazing experience diving, which we will like to share with you.
" Hi friends!  Here is the  link to my first video on YouTube!!!!!!!!!!!!!!!!! It's about Felipe and Ignazio feeding sharks.  As soon as it will be ready I'll share the other Providencia dive video.                Muchos besos. Tullia"
Esperamos verlos pronto / We look forward to seeing you soon.
FELIPE DIVING
Marzo 2008
FELIPE DIVING CENTER apoya y participa en la instalación del Cristo  bajo el mar para la protección de la isla y los cayos, donado por el señor Vicente Stellabatti en agradecimiento por sus maravillosos años compartidos con la comunidad isleña.  Los invitamos a conocerlo.
Diseñado por el MAESTRO, escultor y artista colombiano.
Bogotá, D.C. NOVIEMBRE 16 2007
Felipe e Ignacio Cabeza asistieron al IDC en Bogotá.
Orlando, Fl. USA, Noviembre 1-5 2007
Felipe Cabeza asistió en representación de FELIPE DIVING CENTER con el propósito de integrarse a la Organización Internacional PADI como CENTRO PADI.
Octubre 24-27 2007 Rio de Janeiro, Brasil
Ignacio Cabeza asistió en representación de FELIPE DIVING CENTER,  de Providencia Isla,  apoyado por PROEXPORT.
Octubre 25-28 2007
Felipe Cabeza, FELIPEDIVING CENTER colabora con el escritor " Freelance" Mark Scroppe, en un reportaje para DIVING SPORT MAGAZINE.  Articulo publicado en la revista en el mes de Abril 2008  para promocionar las islas de Providencia y Santa Catalina.  Como parte de la campaña COLOMBIA DESTINO MUNDIAL DE BUCEO lanzada por PROEXPORT en Agosto 2007.
Felipe Cabeza participa como miembro activo en la consecución de información para la protección del ecosistema marino y terrestre.
Bogotá D.C., Agosto 16 de 2007
Felipe Cabeza fue invitado especial al la reunión Anual de miembros Organización internacional PADI
Testimonios
Mi recomendación al llegar a la isla es olvidarse de horarios y de la rigidez de la vida, la cultura e idiosincrasia de sus habitantes no les va a permitir casi que planear nada, son personas muy flexibles así que solo planeé hacer lo que pueda y aproveche cada momento.... Muchas gracias, — Daniel Palacios
Se el SIGUIENTE en publicar un testimonio — Felipe Diving Center
Best place to dive in the Caribbean. Friendliest dive shop with a terrific scuba experience. Plenty of marine life both large and small. — Derrick
Tuve la oportunidad de bucear hace un par de meses con Felipe y en verdad fue una experiencia increíble, los cursos son prácticos y divertidos, la biodiversidad bajo el agua es fantástica. Vale la pena conocer y bucear en Providencia, la calidez humana, los paisajes, comida, etc., permiten a cualquier persona tener unas excelentes vacaciones..... — Daniel Palacios
Muchas gracias por ayudarme a sobreponer el miedo al agua. Sin duda no lo habría logrado sin la ayuda de Fepo y Pichi. Ambos son grandes personas, excelentes buzos. Muchas gracias por su paciencia, un abrazo a Jim. Ire muy pronto a visitarlos. — Lea Bernate
Testimonios
Haz clic aquí para enviarnos tu testimonio! Todos los comentarios son bienvenidos. Gracias por ser parte de la famila Felipe Diving Center!
Nuestro Sitio